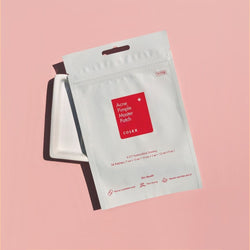 Cosrx
Acne Pimple Master Patch
These little pimple patches are an overnight fixer to make whiteheads, blackheads and acnes disappear by morning. They heal the acne by extracting impurities and reducing redness. Similar to the texture of a hydrogel sheet mask, the patches adhere to skin well, seal around the acne to protect it from bacteria and dirt (which is what causes them in the first place) while maintaining the moisture level inside. 
With three differently sized patches in a pack, you can choose which one will cover your bases.
Cellulose gum, Styrene Isoprene Styrene Block Copolymer, Polysobutylene, Petroleum Resin, Polyurethane Film, Liquid Paraffin, Tetrakis Methane
Wash and dry the targeted area you want to treat. Don't apply any skin treatments or moisturisers between the patch and your skin.
Choose a patch in the appropriate size and stick it on the treatment area. Leave it on overnight.
Remove the patch in the morning and you'll find that it may have turned white as it absorbs the impurities from the area.
If you place your order before 18:00 on weekdays, our team will do their best to send it the same day. We currently ship our products only within Germany and other EU countries.
For Germany, we calculate the shipping costs flat rate with 3.95 € per order, however we provide free shipping for orders over 39 €.
For other EU countries, the order value needs to be over 79 €.
You can find more information on Shipping & Delivery in our dedicated page.